Herrick Dental | 04/16/14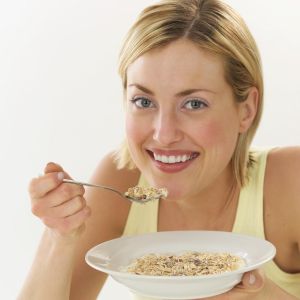 If you're in a rush early in the morning, you may want to think twice before you skip breakfast. Sure, you've probably heard that breakfast is the most important part of the day. After all, it provides us with the energy and nutrients we need to get the day started right. But did you know that eating breakfast is also important for your dental health and can give you a better smile?
Breakfast helps increase your calcium intake
Most people don't consume milk unless it's at breakfast. Milk is filled with calcium, which supports healthy bone and tooth development. Even if you're just pouring yourself a bowl of cereal, you're doing your smile a big favor when you add milk into your daily routine. Prefer yogurt? That's great too! Yogurt not only contains calcium, it also reduces the pH in your mouth when you've eaten other foods, making cavities less likely while also giving you a better smile.
A meal in the morning will jumpstart your metabolism and improves your immune system
How are you going to show your smile off if you're feeling drained of energy or lacking concentration? Protein in eggs is a great way to improve mental clarity throughout the rest of the day…perfect for things like remembering to brush your teeth or picking your kid up at soccer practice.
It doesn't have to be much
A piece of fresh fruit can provide necessary fiber and nutrients that your gums need to remain healthy. The fibrous textures of fresh fruits also stimulate the gum tissues and clean your teeth as you eat them. That makes fruit perfect when you just need to grab something as you're walking right out the door. Apples or pears are great examples of mess-free, healthy breakfast additions that you can eat anywhere.
What changes have you noticed in your smile after you've gone a while without 3 good meals each day? Swollen gums, excess buildup on your teeth, or tooth discomfort are all symptoms that you need to get your smile back on track. Visit us at Herrick Dental for a preventive care appointment. It's just what you need to jumpstart your way to a healthy smile once again.
« Back to blog