Herrick Dental | 07/22/13
Herrick Dental in Columbus, OH is excited to provide a state of the art crown service not available in most dental offices, called CEREC.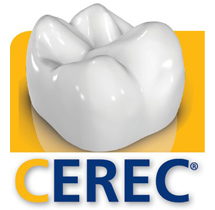 Dental crowns are tooth shaped restorations that cover the entire surface of treated teeth, in order to restore their health, integrity and appearance. Most crowns are made of a tooth colored porcelain material so that they blend in naturally with the rest of your smile.
Crowns are typically needed when:
A large filling needs to be replaced
After root canal therapy
When tooth decay is too large for a common filling.
The CEREC dental crown is unlike its predecessors and dramatically decreases the treatment time for patients in need of a permanent crown. Traditionally, crowns are made by sending an impression of the prepared tooth to an off site dental laboratory. After about two weeks, the lab returns the crown for the dentist to try it into the patient's mouth. If the crown doesn't fit, is shaped or shaded improperly, then it must be sent back and remade.
How CEREC differs from traditional crown methods
CEREC crowns use advanced digital imaging software that take 3D virtual scans of the patient's prepared tooth. This data is then relayed to an on-site crown fabrication machine that makes the permanent crown during the same appointment, allowing the patient to have their treatment completed in the same day. No impressions, no temporary crowns, and no returning visits are needed. Drs. Herrick and Hoffner both provide same-day CEREC crown services to their patients.
Because the imaging technology used in same-day crowns is so precise, the software and fabrication machine can create a crown that fits precisely to your prepared tooth. After having crown treatment diagnosed, the patient arrives for their CEREC visit. Your dentist will remove any areas of decay or broken fillings, then prepare the tooth for the support of a permanent crown. Once preparation is completed, the 3D imaging tool takes a virtual impression of the tooth for the dentist to review. After approving the image, Herrick Dental's in-office crown machine will make a matching, custom fitted dental crown during your same appointment. Once the finished product is ready, your dentist will permanently bond the crown onto the prepared tooth.
You'll never leave the office with a temporary, silver tooth or missing tooth ever again. CEREC crowns are priced competitively with traditional crowns, so that nearly any of our patients can benefit from this personalized service. Contact our Columbus dental office today to discuss this treatment option!
« Back to blog