Herrick Dental | 08/23/16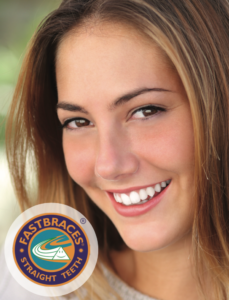 Have you been wanting straighter teeth for a while? Has the thought of having to wear braces for several years prevented you from fixing your smile? If so, you're going to want to learn more about an exciting development in the dental field called FastBraces®, a safe, affordable, quick way to straighten teeth. The braces are for adults and teens, making them a favorite among people of all ages who want to experience rapid teeth straightening.
What Are FastBraces®?
FastBraces® are a state-of-the-art technology that dentists have been using successfully for almost 25 years. These modern braces became available in the US only recently, and we're excited to be able to offer them to our patients. While they look similar to traditional braces, they work much faster.
How Do FastBraces® Work?
A tooth is typically crooked because its root is slanted. As a result, the tooth itself grows in slanted. FastBraces® uses a unique triangular design and a special nickel-titanium heat-activated wire to target and upright the root. As a result, patients often experience immediate root movement that straightens their teeth.
What Are the Benefits of FastBraces®?
FastBraces® have a number of advantages over traditional braces. Specifically, they offer the following benefits:
Treatments typically range from weeks to months–rather than years!
Once teeth are aligned, retainers only need to be worn for 15-20 minutes a day
Use a single wire versus traditional wires and bands
Less painful than traditional braces
Who Is a Good Candidate for FastBraces®?
Many people are great candidates for FastBraces®. They can be used by children and adults to fix problems like teeth crowding, over bites, spacing issues, cross-bites, and crooked teeth. If you'd like an affordable, fast technology to correct your orthodontic issues, there's a good chance that FastBraces® can help!
Why Should I Go to Herrick Dental to get FastBraces®?
At Herrick Dental, we pride ourselves on offering professional, affordable dental care. It's our goal to make each of our patients feel comfortable and welcome, while thoroughly explaining their various dental options.
Just read what some of our patients have to say:
"I've been going to Herrick Dental for 19 years, and I've never had a bad experience…I love all of the staff!"
"I can't say enough about the dental care! When I do need work, they give me all the options available, not just the 'expensive' ones."
"I highly recommend Herrick Dental for all your dental needs. They are very skilled professionals, and they use the most up-to-date equipment."
We're flattered—we appreciate our patients just as much as they appreciate us!
Determining If FastBraces® Are Right for You
If you'd like to learn whether FastBraces® are right for you, we encourage you to schedule a consultation. We'll review your options and formulate a treatment plan that meets your needs and budget. In no time, you'll be walking around with straighter, more beautiful teeth!
It's easy to schedule your FastBraces® consultation with Herrick Dental. Simply fill out our online appointment request form or call us at 614-891-0440. We're pleased to offer evening appointments for your convenience.
« Back to blog