Herrick Dental | 04/12/16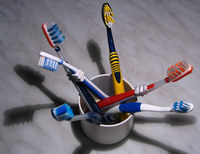 Does the thought of seeing a dentist make you cringe? Do you regularly put off your dental checkups? Please don't—for the sake of your wellbeing! Routine dental care is extremely important for your oral health. Allow us to discuss what we mean by "routine" care, why we urge you to make it a priority.
What Is Meant by Routine Dental Care?
By routine dental care, we're referring to seeing a dentist every 6 months for a checkup. At each checkup appointment, you can expect us to:
Brush, polish, and floss your teeth to remove tartar and plaque
Examine your mouth, neck, and face for symptoms of oral cancer
Check your gums for signs of gum disease
Inspect your teeth for signs of decay or cavities with digital X-rays
Improve your dental health by educating you on our findings and offering treatment recommendations
In short, you should consider your biannual "routine" dentist appointments anything but routine. They are an essential part of keeping your teeth and gums healthy!
What Are the Benefits of Routine Dental Care?
There are a number of benefits to keeping up with your routine dental care. Namely, routine care can help with the following:
Prevention of Gum Disease. A whopping 47% of US adults over the age of 30 have gum disease. If you're reading this, there's a possibility you are one of those adults who has periodontitis. While you may think that regular brushing and flossing is enough to stave off gum disease, that's not the case. During a regular checkup, your dentist will remove tartar that brushing and flossing cannot reach. We realize it can be tempting to think gum disease doesn't merit much concern, however, that brings us to our next item…
Prevention of More Serious Health Problems. Did you know that gum disease doesn't just affect your mouth? It has the potential to impact your body's total health. In fact, researchers have found links between periodontal disease and other serious diseases, including heart disease, cancer, diabetes, osteoporosis, strokes, and respiratory disease.
The Growth of Tooth Decay. Our busy schedules often tempt us to skip appointments we've made, believing missing one won't make a difference. Skipping your dentist twice a year for a checkup is easily done, however it can lead to more complicated dental problems in the future. For example, a cavity in its early stages is often undetectable, yet, over time it will grow larger and larger, become infected, cause toothaches, and may even lead to tooth loss. Mind you, that tooth loss could have been prevented with routine care.
Early Treatment for Oral Cancer. The earlier oral cancer is detected, the better the outcome for the patient. Additionally, your dentist is the only person likely to screen you for oral cancer. For that reason alone, we urge you to plan on seeing us every 6 months!
It's easy to schedule a dental checkup with us. You can either request an appointment online by clicking here, or by calling us at 614.891.0440. We are happy to offer evening hours for your convenience.
« Back to blog