Herrick Dental | 01/16/18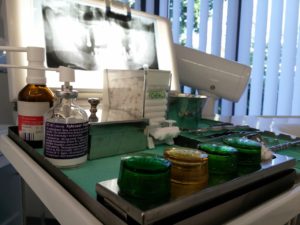 Whether it's due to an injury, genetic condition, or just the way your teeth come in, sometimes a dental situation requires the work of an oral surgeon. While your dentist can perform a number of important procedures, along with helping you craft a course of treatment for long-term oral health, some corrections are only possible with surgery.
But if you've never needed an oral surgery before, you may have some concerns. Not to worry, however – oral surgery is a safe, routine part of dental care. Here are a few things to consider if you may be in need of an oral surgery.
What does an Oral Surgeon do?
An oral surgeon, or maxillofacial surgeon, primarily treats issues that are related to hard and soft tissues of the jaw, mouth, and face. Their practice may be in a traditional hospital, or they may be in a casual office setting similar to your dentist.
An oral surgeon typically will have completed the standard four years of dental school. However, this will have been followed by a four-year, hospital-based residency program for surgeons. During that residency, they gain experience in general surgery, anesthesiology, and emergency medicine.
Types of Oral Surgery
There are quite a few conditions that might cause your dentist to refer you to an oral surgeon for correction. In most cases that procedure will be relatively minor, and can be performed as out-patient surgery with only mild sedation.
Oral surgeons most frequently handle teeth extractions, corrective surgery to deal with a cleft palate or lip, reconstructive surgery following significant facial or dental injury, and corrective jaw surgery.
For wisdom teeth, your dentist will probably recommend that they be removed even if they are not yet impacted, as the chances of that happening are fairly high. Impacted wisdom teeth can result in permanent damage to surrounding teeth, gums and bone tissue, along with significant swelling and pain, so having them removed is recommended.
Oral surgeons may perform corrective jaw surgery when traditional orthodontics are unable to correct a bite that is misaligned, or to repair certain birth defects resulting in a cleft lip or palate. Oral surgeons also typically handle procedures like placing dental implants, bone grafting, treating obstructive sleep apnea, and other issues involving the hard and soft tissues of the head.
When is Oral Surgery Necessary?
Feeling anxious about surgery, particularly when a tooth needs to be removed, is perfectly normal. But sometimes a tooth simply can't be saved, no matter what we do.
A tooth extraction is one of the most common procedures out there. If your dentist can reach the tooth with forceps, it may be a simple extraction—but if the procedure requires the removal of bone or gum tissue, then it will need to be performed by a surgeon, and stitched back up once complete.
How Herrick Family Dental Can Help
If you are experiencing a dental emergency call our office at 614-891-0440 immediately. We'll do our best to assess your situation and work you into our schedule the very same day whenever possible. If your emergency is life-threatening, please seek professional care from a hospital ER.
« Back to blog