Herrick Dental | 03/28/18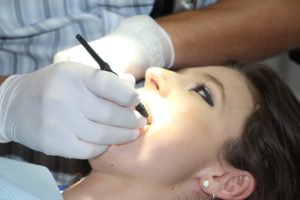 Despite the best efforts, sometimes a tooth cannot be saved. And when that happens, a dental implant is typically the best solution for a long-term replacement. However, you may be uncertain about whether or not a dental implant is right for you, or even if a condition you have makes them impossible in your situation. So – do you qualify for a dental implant?
What are Dental Implants?
If you've only recently needed a dental implant, you may not be familiar with them. Essentially, a dental implant is a replacement for a tooth, in the form of a fabricated root embedded in the jawbone, to
which a removable replacement tooth is then attached.
This root is usually made from titanium, due to its strength and malleability. Dental implants are popular because they are strong, can be shaped to meet a variety of needs, and with proper care can last
the rest of your life.
Dental implants aren't a universal solution to every problem you may have with your teeth, however. Here's what you should know about a few conditions that may complicate your options.
Can I get a Dental Implant if I Have Dentures?
For those of you with dentures, in most cases the answer is yes, you can still get a dental implant. In fact, depending on the condition of your dentures, a dental implant may be used to stabilize your existing dentures, or replace them entirely.
In most situations, the determining factor for whether a dental implant is an option is the quality of bone in your jaw. A full exam by your dentist is recommended before making a decision.
What If I'm a Smoker?
There are differing opinions on how significant an impact smoking is on dental implants, but the short answer is yes, you can still have an implant successfully placed if you are a smoker. However, the capacity for that implant to fail is significant, and its success is more dependent on your oral hygiene practices.
According to an article published in the Journal of International Society of Preventive & Community Dentistry, smoking doesn't affect the implant's process of integrating with the bone, however, it can have negative impacts after the second-stage surgery, and causes significantly more marginal bone loss after the implant is placed.
Does Teeth Grinding Disqualify me From Getting Dental Implants?
As with smoking, teeth grinding (or bruxism) doesn't necessarily disqualify you as a dental implant candidate, however, it presents an uphill battle.
Since the bonding process between the implant and its bone anchor is the most important factor in implant success, bruxism can cause issues – it is possible to grind your teeth enough that the bonding process fails. However, as long as your gums and jaw remain healthy and strong, a dental implant can still bond successfully.
Gum Disease and Implants
Gum disease, or periodontitis, doesn't disqualify you from receiving a dental implant per se, but the condition must be treated and managed first before a dental implant can even be considered. A successful implant patient's mouth must be in good health, and if an implant were to be placed in the presence of gum disease, the chance for infection (and thus implant failure) is higher.
Schedule a Consult Today
The only way to know for certain if a dental implant is a possibility for you is to have a thorough exam and conversation with your dentist. Our professionals at Herrick Dental can get you started! Find out more about our dental implant placement, or schedule an appointment online.
« Back to blog