Herrick Dental | 12/14/15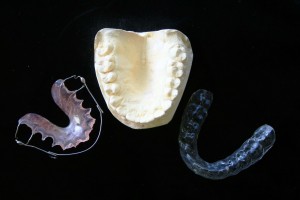 If you find yourself wondering, "Should I get braces?" then you are in the right place. So many questions arise from this simple question, which many people are afraid to ask their dentist in the first place. Usually, braces can be fitted with affordable pricing and personal plans designed to get your teeth in shape quickly.
The next question should determine which type of braces work best. With what seems an endless amount of possibilities, we will focus on the most prominent types. We offer traditional metal braces, Invisalign, and FastBraces. Read on for more information on each type.
Reasons to Get Braces
At each stage of your life, there are many different reasons for wanting to get braces. For teens, they often need/want them after their adult teeth have finished coming in. Adults, on the other hand, may have missed earlier opportunities in life, may have undergone dental trauma, or they may not have been financially capable as a young teenager.
Whatever the case, braces can fix even more dental issues than people commonly thought. You may try braces if you have:
Speech impediment
Overcrowding and crooked teeth
Unwanted gaps
Overbites and underbites
Chances are, if you want to improve the look and feel of your teeth, braces can help, but of course, you will need dentist approval first. If you are ready to consider braces, we can help you decide from the following options.
Traditional Braces Work in Most Cases
You are most likely aware of traditional teeth-straightening techniques. Metal braces are the go-to for teens who begin the teeth straightening process. The benefits are:
They are widely offered
They can correct extreme cases
They can be customized
This procedure is often done over the course of several months and/or years. While traditional braces have been around the longest, they do have their downsides. Aside from their less-than-appealing look, the straightening process is slower than the more modern options, and they can be uncomfortable.
FastBraces are a Fast and Easy Alternative
The name says it all – FastBraces. This modernized type of braces are intended to correct your teeth in a shorter amount of time. This option also leaves you with more money in your pocket!
They look like traditional braces, but they straighten your teeth with different brackets that are designed to work more quickly. These brackets move both roots and crowns together, unlike metal braces, which move each in phases.
If you opt for the FastBraces, you can expect these benefits:
Straightened teeth within three months to a year
Affordable
Fewer dentist visits
Less pain than metal braces
In little-to-no time at all, what could be years of treatment turns into mere months. Treatments are safe and backed by over 25 years of successful history. And while FastBraces may not be right for everyone, the only sure way to tell is with a consultation from your dentist.
Invisalign can Mask Your Treatment
For less intense treatments, Invisalign can work like a charm. With this option, you wear what looks like a mouthguard that slowly shapes your teeth into place. The real benefit are as follows:
Practically invisible
No wires
Easy cleaning
Comfortable
Patients who are likely to be embarrassed about braces can find comfort in this almost invisible option. Invisalign is also a great option for minor realignment issues. Unfortunately, patients with complicated problems may not be able to benefit from this procedure.
Schedule an Appointment
While research is a great first step, you cannot be sure without the expert help of our dentists. We can go over options you never thought you had and guide you to the best solution.
Contact us today. You can rest easy knowing that you are treated like family when you decide to step into our offices. Let us help you begin shaping your future.
« Back to blog