Herrick Dental | 07/17/15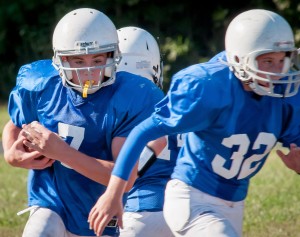 While sports are fun and a great way to stay in shape, they can also present very real dangers to the body. Each year, numerous injuries occur without the use of proper safety gear, including the new and improved custom mouthguards made to provide maximum dental protection in sports.
Do Mouthguards Really Protect Teeth?
The answer is a simple, YES. A significant amount of yearly dental injuries are sports related due to the lack of protective mouth gear worn by athletes. However, with the implementation of mandatory mouthguard rules, yearly dental injuries dropped from 50 percent down to less than one percent.
Furthermore, the amount of protection provided to the athletes depends on the type of mouthguard. Three common options are:
Stock Mouthguards
The least expensive guards are the stock variety. Though these are ready to go at purchase, they are cheaply made and leave much room for dental injuries.
Boil and Bite
Boil and bite mouthguards are a step above stock guards in safety coverage. The boil method allows users to fit the guard to their mouth, which provides more protection. These protective instruments are priced moderately, but still leave some holes for injury.
Custom Mold
While the custom mold mouthguards are priced more than over-the-counter mouthguards, they offer the best protection available due to their highly personalized nature. Choosing a custom sports mouthguard is the best way to prevent tooth injuries like avulsion (knocked out tooth), fracture, and luxation (dislocation).
Custom Mouthguard Benefits
Although a pricier preventative option, custom mouthguards actually save money in the long run. Loose-fitting guards made with subpar materials often need to be replaced and inevitably lead to costly dental work. On the other hand, custom mouthguards provide the following benefits:
Tailored Fit
Unbeatable comfort
Longevity
Conducive for easy breathing
Simple maintenance
Other Products Do Not Match Up
The stock guards offer a uniform fit, which can cause it to easily fall from the mouth. Without a firm setting, the stock mouthguard opens up a range of possibilities ending in traumatic mouth injuries.
Boil and Bite mouthguards offer more protection than their stock counterpart, but they still fall short of the customized benefits. They are known to make it hard to breathe, last for short amounts of time, and pose injury risks during the boiling process.
Custom is Quick and Simple
Dentists need to take a mold in order to begin making the mouthguard. You may only need two trips to complete the process. Custom mouthguards for athletes usually take no longer than a couple weeks to make.
Does My Child Need a Mouthguard?
According to the National Federation of State High School Associations, the following sports require athletes to wear mouth protection:
Football
Field and Ice hockey
Lacrosse
Wrestling
The American Dental Association recommends custom mouthguards for 29 sports, some of which include:
Basketball
Volleyball
Gymnastics
Soccer
Some schools and coaches require mouthguards despite the sport falling under recommendation status. If there is a possibility of dental trauma in your child's sport, the use of a mouthguard is strongly recommended.
Expertly crafted custom mouthguards is what we do here at Herrick Dental. Give us a call and we will give your athlete the protection they need for an affordable price.
« Back to blog