Herrick Dental | 07/20/17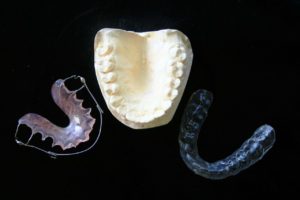 Years ago, braces and other orthodontic devices were almost exclusively applied to kids and teens. But as advances in technique and equipment have been made, more and more adults are discovering that their teeth can also be straightened easily, comfortably, and discreetly.
Invisalign is one of the leading methods used for adult alignment correction, and continues to grow in popularity. But is it the right solution for you? Before you sit down with your dentist to go over your options, it helps to know the basics.
Who is a Good Candidate for Invisalign?
Talking with your dentist is the best way to determine if you're a good candidate for Invisalign, but there are a few general factors that help govern if it is right for you. Younger patients (under 13) are typically ruled out, as growing teeth and jawbone aren't well-suited for the system.
Since Invisalign aligners can be easily taken out, the treatment requires some self-discipline – they still need to be worn for a good portion of the day, so unless you can commit to wearing them regularly, Invisalign might not be for you.
And while Invisalign is ideal for mild to moderate correction like teeth crowding, over and underbite, and moderately-gapped teeth, significant correction or widely-gapped teeth might benefit more from traditional orthodontic devices.
The Pros and Cons
One of the most well-known benefits of Invisalign is its comfort – with no wires or metal, the soft aligners are much gentler on your mouth than braces, and the ability to remove them when needed can be a major difference, especially when it's time to brush and floss.
Transparent aligners are also much more discreet, inspire confidence, and require less time in the dentist chair. Invisalign does have a few downsides, however – it isn't effective for every possible situation, and once treatment is completed, you may be instructed to wear a nighttime retainer for an ongoing period of time.
Proper Care for Your Invisalign Device
Using Invisalign necessitates that you remove the aligner before each meal, and brush thoroughly afterward; otherwise, the clear material may become stained. Aside from that requirement, cleaning your aligners is relatively easy – you can simply brush them with a toothbrush in lukewarm water as needed.
How Herrick Family Dental Can Help
At Herrick Dental, our professionals have extensive experience determining whether Invisalign is the right solution for your needs. With just a short appointment, your condition can be evaluated, measurements can be taken, and your clear aligners will be custom-crafted to fit your smile.
Contact us today to learn if Invisalign is right for you!
« Back to blog