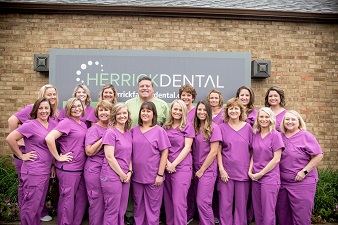 Welcome to Herrick Dental.
Our team is looking forward to meeting you as we work to craft your healthy and beautiful smile. From the smiles you'll receive at the front desk to the thoughtful care provided by our dentists and hygienists, we believe you'll find a home at Herrick Dental.
Before your appointment starts
When you visit Herrick Dental, you can expect to be greeted quickly when you walk into our practice. You will be asked to provide some important information regarding your health history and previous dental care so that our team can properly care for you. Want to save time at your appointment? Complete your medical history form in the comfort of your own home and bring it with you to your first visit. You may also read up on our privacy policies implemented within our practice.
What to expect the first time you meet our doctors
We understand that patients come in for various reasons, ranging from general dentistry to emergency care. Here's what you can expect from a first-time appointment:
A team that asks the right questions, taking the time to assess your needs
A personal consultation with one of our dentists
A thoughtful approach to defining the next steps of your dental care
We believe that dental care should be both thoughtful and efficient. You will never be rushed during an appointment, nor will you be kept for hours at the dentist office. After your appointment, our office staff will help you understand your insurance and payment options, and answer any questions you may have!
Schedule your appointment today!
We hope to form a long-lasting and trust-based relationship with you, and we look forward to helping you achieve the smile you've always wanted. Call our office today to schedule your appointment and begin life with superior dental care.
Schedule Your Appointment Today