Fast, Comprehensive Orthodontic Treatment
Fastbraces® Technology allows patients to straighten their teeth quickly, without the expensive cost of braces. Some of our Columbus patients even see results in as little as 20 weeks! Developed and tested for more than 25 years, these modern, affordable braces are now available in Columbus, Ohio from Herrick Dental.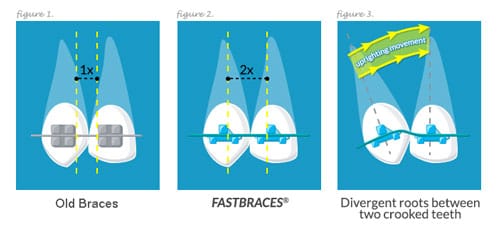 Do FastBraces Work?
The decision to get braces can be scary. Many adults and teens dread the decision. FastBraces® is the solution - providing a fast and convenient alternative to braces!
Speedy treatments ranging from weeks to months, not years!
Non-extraction immediate root movement in most cases
Affordable, revolutionary technology
Only wear retainers for 15-20 minutes a day
Preserves natural bite and function
Uses a single wire versus traditional wires and bands
Less painful to traditional braces
Safe - more than 25 years of successful clinical treatments
The FastBraces Method
In most cases, teeth are crooked because they did not erupt properly. This means that the root of the tooth is slanted, forcing the tooth into a slanted or distorted position.
FastBraces® use a patented triangular design to target the roots of teeth from the beginning of treatment. A special nickel-titanium heat-activated wire gently uprights the root. The result is often times immediate, extraction-free root movement that straightens teeth. You can learn more about how FastBraces work, their effectiveness and read customer reviews by visiting our blog.
The Fast, Safe and Affordable Alternative to Braces
Do you want straighter teeth in as little as 20 weeks? Come in to our Columbus office for a consultation and discuss your personalized treatment plan.
Schedule Your Appointment Today